GOLD COAST 2012: IT HAS ARRIVED
I have just launched a Great Sale for the Australian Market involving a 4 Day Trip to the Gold Coast, which is a Tourist Area in Queensland, Australia.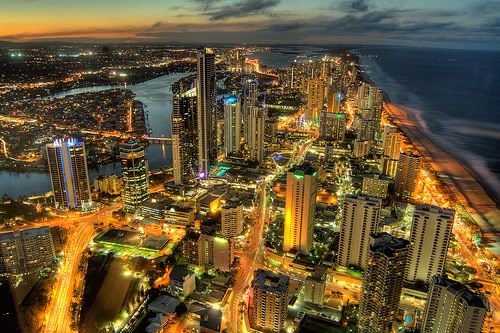 THE 2012 GOLD COAST SALE CONTINUES TO OFFER THE CHEAPEST AND MOST OFFORDABLE HOLIDAY FOR MANY FAMILIES AND PEOPLE. THIS YEAR IS SLIGHTLY DIFFERENT FROM PREVIOUS YEARS. FOR THE FIRST TIME, THERE WILL BE INCENTIVES AND GIVE AWAY'S FOR THOSE TAKING PART. ALSO, THERE WILL BE A CHOICE MANY DIFFERENT TYPES OF ACCOMODATIONS AVAILABLE TO CHOOSE FROM. ALL WOULD OFFER CENTRAL LOCATIONS AND GREAT VIEWS, CLOSE TO THE MAIN SHOPS AND THE BEACH.
DATES: 22-26 FEBUARY
LENGTH OF STAY: 4 DAYS
PRICE: $350 PER PERSON ( From Melbourne)
CHILDREN PRICE ( UNDER 12) : $300

Price: $300 PER PERSON ( From Sydney)
Children price ( under 12): $250 ( From Sydney)
INCLUSIONS: FLIGHTS RETURN  + ACCOMODATION.
ACCOMODATION ON OFFER:
** WATERMARK HOTEL AND SPA
** HOTEL GRAND CHANCELLOR
** BREAKFREE IMPERIAL SURF
** BREAKFREE MOROCCAN
** PANORAMA TOWER
** COPACABANA APARTMENTS
** HI SURF BEACHFRONT RESORT
** TERMS & CONDITIONS **
** The sale price of $350 is based on a minimum of 4 people. Families of 1, 2 or 3 people only may have to pay extra.
** The flights will be with Jet Star and it will only have 10 kg of carry on luggage. Those who wishes to upgrade to checked in luggage will have to pay extra.
** The accommodation has limited availability so the earlier you book, the better it is of securing your place.
** This Sale package is Strictly non refundable. Changes to the dates will incur a change fee of $50 per person plus fare difference on top of it.
** Anyone who wishes to extend their stay to more than 4 days , can do so. The costs will be re-calculated and advised.
** This sale will run until all rooms are Sold out.
To book or make enquiries, Please use the below contact Details:
Senior Travel Consultant:
Eddie Al-Dabbagh
Store: Escape Travel Knox City Shopping Centre, Melbourne, Victoria
Office Work number:
03-9792-7600
Mobile:
0401377780
E-mail:
eddie.aldabbagh@escapetravel.com.au